Calling all oyster lovers – The Curious Oyster + Wayward Smokehouse will be hosting the first annual OYSTERFEST in honor of their grand opening at The Avenue at White Marsh on Saturday, November 2 from 12 to 6 pm. A special ribbon cutting ceremony will be held at noon.
OYSTERFEST will feature live music; a family-friendly Kiddie Corner until 3 p.m. with face painting, balloon animals, games and more; food and alcoholic beverages available for purchase; and the Oyster Recovery Partnership on site with information about their programs. Unity Reggae Band will play from 12:30 to 3 p.m., and The Loop – playing today's top hits, modern & classic rock, hip hop, country, and oldies – will be on from 3 to 6 p.m.
The Curious Oyster and Wayward Smokehouse are part of the White Oak Hospitality restaurant group. While Wayward has an additional spot in Federal Hill, this is the first Curious Oyster location. The Avenue location opened on October 18 in the former Don Pablo's.
"The Wayward started downtown, and then the opportunity came up to bring our unique dishes from the City to the County at the Avenue at White Marsh," said Kacey Harper, one of the Curious Oyster managers.
"We are not like any other restaurant. As soon as you walk in our doors, we want you to forget all about real life, relax and try something new and different."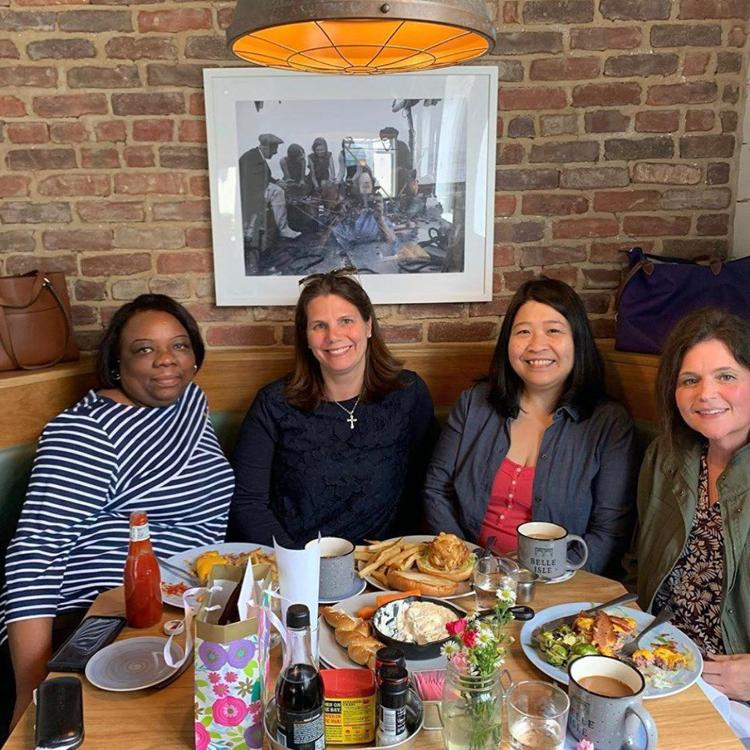 Specialty fresh seafood dishes at the Curious Oyster include cast iron octopus, lobster pot pie, halibut and warm lobster rolls. The restaurant also offers an oyster raw bar, cocktails and local brews.
While the Curious Oyster focuses on seafood, Wayward is meat-driven, featuring Texas style BBQ and cuisine using tried and true smoking methods. They also have an extensive and rare bourbon selection, and guests can enjoy live music, sporting events and nightly specials.
"We are excited to welcome Wayward Smokehouse and The Curious Oyster to our part of town," said Sharon Kihn, Executive Director of the Chesapeake Gateway Chamber of Commerce.
"White Oak Hospitality made an excellent decision to locate in White Marsh, near the 1,000 acre mixed-use Greenleigh at Crossroads community."
"In addition, the fantastic renovations that White Oak Hospitality has made to the property, combined with Federal Realty Investment Trust's multi-million dollar renovation of The Avenue, are other factors, which will help ensure the restaurants' success," added Kihn.
"We are delighted to be assisting with their grand opening and ribbon cutting ceremony and hope that the community also will come out and support this growing local business. "
The Curious Oyster participates in the Oyster Recovery Partnership (ORP) shell recycling program. The non-profit will be on hand at the OYSTERFEST to provide information to the public about their local environmental efforts.
The ORP designs, promotes and implements consensus-based and scientifically-sustainable shellfish ecological restoration, aquaculture and commercial fishery activities to improve the environment and expand economic opportunities in the Chesapeake and Coastal Bays and beyond.
According to ORP, oyster shell is the best, most natural material used to rebuild oyster reefs but it's also in in very short supply. To save this ecologically important byproduct, ORP created the Shell Recycling Alliance in 2010 to reclaim shell, free of charge, from restaurants and other seafood businesses.
Shell that otherwise would be dumped in landfills is now recycled, cleaned, treated with baby oysters and put back into the waters of the Chesapeake Bay.
ORP is now the nation's largest shell recycling network, annually collecting 33,000 bushels of shell from nearly 350 restaurants and 70 public drop sites in the mid-Atlantic region.
Since the Alliance's launch, ORP has reclaimed 190,000 bushels of shell, which equates to 6,650 tons kept out of area landfills, approximately $300,000 saved by local businesses in waste collection fees, and enough substrate to support the planting of 950 million oysters in local waters.
If you're up for more celebrating after OYSTERFEST, later that night, there will be a Grand Opening After Party featuring Baltimore's #20, Ed Reed, DJ-ing from 10 pm to midnight. Admission is $5, and guests receive a signature house cocktail. A portion of the proceeds will go to the Ed Reed Foundation.
Saturday, November 2 from 12 to 6 p.m.
The Curious Oyster + Wayward Smokehouse
The Avenue at White Marsh
8161 Honeygo Blvd, White Marsh MD
Grand Opening After Party featuring Ed Reed
For more information, go to