Maryland will begin to "re-open" as part of Governor Hogan's "Roadmap to Recovery" plan.
The state officially started on its "Roadmap to Recovery" when Gov. Larry Hogan announced on Wednesday that Phase One would start on Friday at 5 p.m.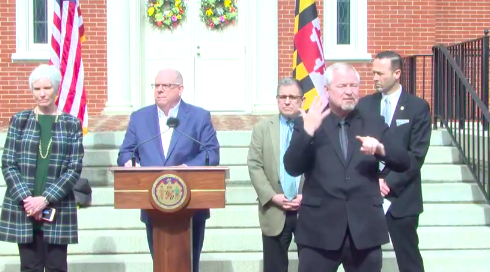 "Today I am pleased to announce that Maryland has achieved the 14-day trend of plateauing and declining numbers," Hogan said in a televised live press conference. 
"The number of coronavirus hospitalizations is down from two weeks ago. The number of ICU patients has plateaued for a significant period of time and is trending down over the past 14 days. The rate of new deaths is also trending down."
This, Hogan said, has allowed Maryland to "cautiously and safely" begin Phase One of the Roadmap to Recovery.
"Effective Friday at 5 p.m., we will be lifting the 'Stay-at-Home' order, and moving to a 'Safer-at-Home' public health advisory," Hogan said.
"All Marylanders, especially older and more vulnerable populations, are advised to continue staying home as much as possible," Hogan said. "Employers should continue to encourage telework. Everyone should continue wearing masks in indoor public areas, retail stores, and on transit."
The adjusted guidelines will allow retail stores to reopen at up to 50 percent capacity, while still practicing social distancing, masking and other safety precautions.
Stores should continue encouraging customers to do curbside pickup or home delivery.
Manufacturing businesses may resume operations in a safe manner: encourage multiple shifts to limit the number of people working at the same time, and to practice physical distancing and other safety precautions.
Personal services, including barber shops and hair salons, may reopen with up to 50 percent capacity; and by appointment-only and while health, safety and mitigation measures are in place.
Other services, such as pet groomers, animal adoption shelters, car washes and art galleries may also reopen while observing safety guidelines.
Churches and Houses of Worship may begin to safely hold religious services. They are "strongly encouraged" to hold services outdoors; indoor services are permitted at 50 percent capacity, with appropriate distancing, masking and safety protocols "strongly advised."
Three weeks ago, when Gov. Hogan revealed the Roadmap to Recovery, it contained four "building blocks" that had to be in place before the state would consider Phase One of the four-phase roadmap.
Those blocks are increased testing capacity; increased hospital surge capacity; ramping up supplies of protective equipment; and robust contact tracing.
"We made it clear three weeks ago that if Maryland continued staying home, continued practicing social distancing," Hogan said, "we were hopeful the key metrics we were tracking would continue to plateau and decline by early May.
"Last week, with our four building blocks in place and after a solid week of encouraging numbers, including slight but significant decreases in hospitalizations and consistent plateauing in ICU numbers, our recovery team recommended revised guidelines."
Older residents and those with pre-existing conditions that make them vulnerable to COID-19 are still encouraged to stay at home as much as possible, and those who can work from home are encouraged to continue doing so.
Wearing masks in indoor public areas and on public transport is still recommended.
Counties which still have a significant number of COVID-19 cases, like Montgomery and Prince Georges, may delay implementing Phase One and may do so at their discretion.
"Prince George's and Montgomery counties have the highest number of cases and they have made it clear that they are not yet ready to move into stage one," Hogan said Wednesday.
Prince George's County has 9,702 active cases and 370 deaths, while Montgomery has 6,897 active cases and 386 deaths.
Baltimore County has 3,957 active cases of 203 deaths.
As of Wednesday, Dundalk had 250 confirmed cases of COVID-19, while Edgemere-Sparrows Point had 24.
Essex had 148 cases and Middle River has 221.
Baltimore County Executive John Olszewski Jr. responded to the governor's announcement by tweeting "Our top priority is to protect the health and well-being of our people. We are taking a close look at the specific actions announced today, and we will determine our next steps in the next 24 hours."
Olszewski also released a joint statement with Baltimore City Mayor Jack Young:
"Our top priority is to protect the health and well-being of our people.  As Governor Hogan has acknowledged, there is not a statewide, one-size fits all approach to achieving that goal, and just four jurisdictions have 72 percent of the state's COVID-19 cases. Baltimore City and Baltimore County are two of those jurisdictions.  A flexible, community-based approach is necessary to empower individual jurisdictions to make decisions regarding timing of Phase One re-openings.
For the Baltimore region to safely move into all of Phase One, we need more access to personal protective equipment, as well as increased testing capacity and more robust contact tracing. We've seen some progress in each of these areas, but we have to do even more.
We acknowledge that this will not be welcome news to all of our residents. Individuals and businesses continue to make real sacrifices, and those sacrifices are preventing the spread of a deadly virus. However, rushing to reopen in our large, densely populated jurisdictions jeopardizes the lives of our neighbors and loved ones."