MIDDLE RIVER — Protesters have been outside Vince's Crab House for nearly 100 days demanding that the restaurant shutdown. However, after experiencing physical threats, racial name calling, and a lack of a unified purpose for protesting, some have left the 'Shut Down Vince's Crab House' movement.
Protests initially erupted in June after old internet posts from the owner were posted to Facebook™, revealing racist comments made about black people. Since then, Vince Meyer, co-owner of Vince's Crab House, apologized for those posts and the restaurant decided to close its doors for 9 days.
Fast forward almost 3 months; protesters are still outside the restaurant, the Meyer Family is suing Baltimore County Executive Johnny Olszewski for, "having the police stand down", suing protesters for physically and verbally threatening them, and now, people are saying why they no longer are showing up to protest at the crab house.
Liri Fusha, a former protester and mayoral candidate for the city of Baltimore, said she first decided to show up and protest at Vince's Crab House because she personally experienced racial inequality and malpractice from the local, state and federal government and wanted to support others who have experienced similar hardships due to the color of their skin or ethnic background. Fusha participated in the protests for two months but stopped after she started to receive what she described as hostile treatment from other protesters.
"[Other protesters] were calling me KKK and saying 'we don't want you in our tent,''' Fusha said.
Then on Monday, July 6, Fusha said three protesters, who she would provide food and beverages to as they stood outside of Vince's, threw the soda cans she provided for them at her car.
"They broke my passenger side mirror and threw stones at my car hood and made dents. If I had my car window open, I would have been dead," Fusha said.
Fusha said she told Kellie Vaughan, one of the lead organizers for the 'Shut Down Vince's Crab House' group, and other protest organizers about what happened to her but said nothing was done to address the issue and prevent anything like it from happening again.
Instead, Fusha said she was asked to leave the protest line and not return after she tried to calm down Rikki Vaughn, another protester, local business man and former mayoral candidate, who allegedly, "got out of control and wanted to fight with [ the Meyer family].''
"To avoid any fights or charges against Rikki, I asked Bishop Carter (another protest organizer) to come with me to get Rikki out of trouble. I then heard Kellie scream, 'leave Ricki alone, he knows what he is doing.'''
The next day, Fusha said she was told to not come back to protest.
Vaughan told the Avenue News that she did listen to Fusha and tried to help her but said her story kept changing.
"Her story didn't add up. At first she said it was all caught on the firehouse surveillance cameras. We checked with the firehouse and they don't even have cameras. Then she said they threw Gatorade bottles at her car but she wasn't even in it. Since then, she said they threw them at her," Vaughan said.
Without anybody else to confirm what happened to Fusha and her car, Vaughan said she told her there was nothing she could do about the situation and then that is when Fusha stopped showing up to protest.
Fusha also said she was not informed by other protesters that The Meyer Family decided to close down the Middle River location for 9 days following the initial protests that broke out. Had she known this, Fusha said she would not have stood outside the restaurant to protest for two months.
"Vince closed the business for 9 days-that is it. I think the movement here is not the way it should be but I supported [the protestors] because [Rikki Vaughn] and I were candidates for mayor in Baltimore City."
Darnell Williams, another former Vince's Crab House protester, said he left the protest group because he felt like every protester had a, "different agenda and it got too chaotic for me."
"My agenda for being there was to shut down Vince's Crab House but when you have everybody as a collective group not on the same page and not agreeing and everybody fussing and fighting amongst themselves I just couldn't do it."
Another former protester, Tamara Bent, said she started protesting back in June when Vince's social media comments went viral. However, as the weeks went by, Bent started to see and hear things from other protestors that made her decide to stop showing up to protest.
"I've seen a lot of things transpire out here. I've seen money being given to people and they say it was for food donations. I've heard [protesters] call people 'dirty white' [and other expletives]. That's not peaceful."
Bent said Vince's apology he gave to the protesters was also a reason why she decided to stop protesting.
"When he gave the apology, it was fine and I stepped back because I'm not God and I can't judge anybody. That's all that I was genuinely waiting on, was [that apology]," Bent said.
Bent also said she now understands the Meyer family's reaction to the protesters that have been outside their Middle River location for months.
"You have to think about it. If somebody is standing outside of your establishment, your home or whatever you want to protect, the only thing you are going to do is react," Bent said." I mean, I think it's just ridiculous. How much more do you need to beat a person down instead of just giving them a chance to make a change."
Candince Green, a current protester, also spoke at the press conference and said none of the protesters have been paid to protest and that all the money received has been donations from the community.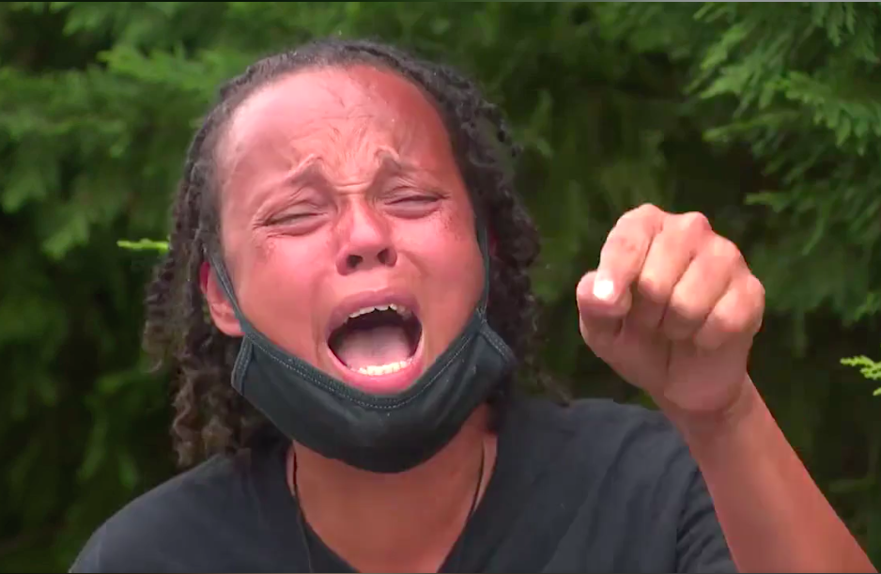 "When people ride past and they hand out money it's from the community. When they say, 'you know what to do with it' we have been provided ice and food and it's no more than 20 to 30 dollars," Green said.
"I stand out here 10 to 12 hours a day and I am worth more than 20 to 30 dollars divided by 12 hours."
Green said she is still protesting outside of Vince's because she is fighting, "to get racism out of my community."
"I have not stood there and cursed, fat shamed, or race shamed. We are here because of comments we heard. Whether it was from 2012, 1983 or 1963, they still hurt. Racism still exists and I am going to stand here if it takes another 100 days because this is my community," Green said.
"I'm tired of all these fabrications from everybody's side. I refuse to have another racist person in this community."