BALTIMORE COUNTY— With the COVID-19 pandemic approaching it's 10 month stint, it perhaps couldn't be more timely for the Community College of Baltimore County to open a new Center for Health Care Professions building.
The ribbon cutting ceremony for this new, Essex campus building was held both virtually and inside the center itself, which is called the Carol Diane Eustis Center for Health Professions.
The $63 million, 120,000-square-foot facility is named in honor of the late Eustis, in order to honor her 46-year carer at CCBC Essex and her 12 year service as dean of CCBC's School of Health Professions. The facility provides students and alumni with cutting-edge technology, labs, classrooms, student lounges and an inter-professional simulation center for hundreds of students to practice care in a safe, risk-free environment.
CCBC President Sandra Kurtinitis said she is glad the building is named not after a particular donor, but after a person who greatly impacted CCBC by dedicating so much time to her students.
"There was nothing ordinary about Carol. I do believe it is her greatest gift to us was that...she turned this school into an academic powerhouse. I think, as yu walk through this building that you will see it is a testament to her vision, work ethic, talent, skill and her shear dogged competitiveness," Kurtinitis said.
"With the investment of our partners at the state and county levels, as well as support from a host of donors, CCBC is preparing tomorrow's leaders to meet today's critical industry workforce needs."
County Executive Johnny Olszewski attended the event and said the new center is not just a positive asset to CCBC, but Baltimore County as a whole.
"Health care, as many of you may know, is one of our fastest growing and most important industries in Baltimore County so I am grateful that CCBC is stepping up to help meet the need and help prepare our students to literally save lives."
Members of Eustis' family attended the ribbon cutting and spoke about how their beloved family member was deeply dedicated to ensuring her students received the guidance they needed to not only be successful in the health care industry but to feel like they were part of a supportive community of people who cared for both their professional and personal goals.
"Of all the opportunities to speak publicly about my aunt, I believe I got lucky to be able to speak on my family's behalf inside such an incredible physical symbol of her drive and commitment for something she truly loved—her career ere at CCBC," Eustis' niece said.
"As children, we have memories of coming to Maryland [ to visit our aunt]...and of CCBC. Likely my first college sweatshirt was from CCBC Essex and we might have been CCBc's biggest basketball and field hockey out of state fans. My first observations with getting to see more of her every day up close was to witness the commute.
The daily drive to and from West Minster to CCBC's campuses in its own right was enough for me to be convinced of her dedication to her career and to this institution. I also learned more about each of the staff members she worked with. The fact that the nursing program was a go to place for on campus news and that the people who worked in the mortuary science department tend to have the best sense of humor.
If there were opportunities to get more funding or to convince talented professions to join the ranks, she would pursue it relentlessly and often in ways that were uniquely her own. She would line up the facts, put together the evidence and would often times show up already done the work to put the pieces into place."
Following Emily's speech, the rest of Eustis' family, as well as CCBC faculty and stakeholders stood (6 feet apart) to cut the ribbon to officially commemorate the opening of the center.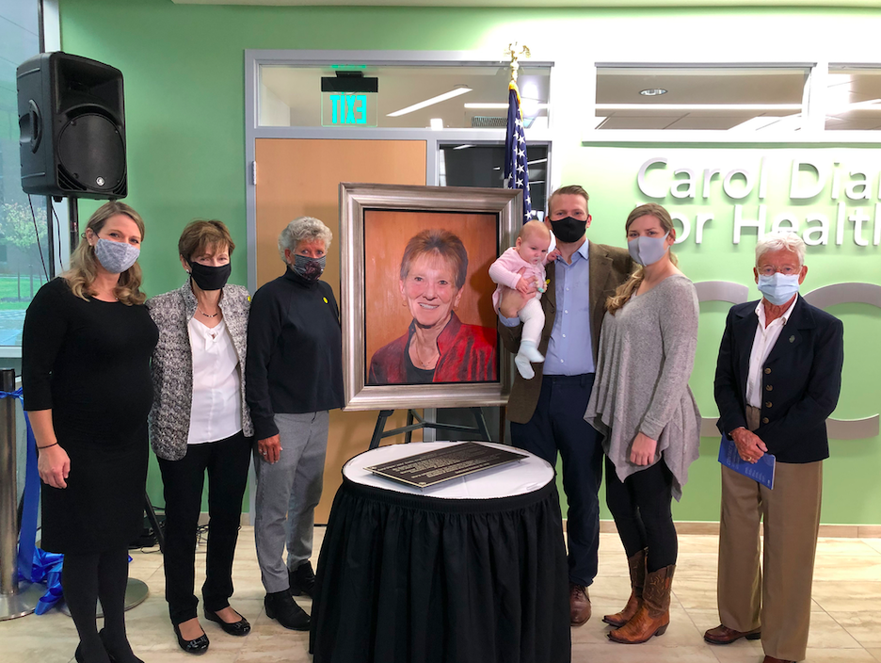 The family members also had the opportunity to view a painted portrait of Eustis and a plaque dedicated in her honor that will both placed within the center.
Highlights of the Carol Diane Eustis Center include simulation labs with computer-controlled mannequins; a home environment simulation lab for "real world" emergency response practice; debriefing rooms; simulated exam and hospital rooms; and a cross-discipline simulation lab which can mimic emergency room conditions. The building also includes a 140-seat testing center with sections for adaptability, including reduced-distraction testing rooms for special needs students.
Prior to the ribbon cutting, Dr. Kurtinitis shared that CCBC is the largest educator of undergraduate health care professionals in Maryland and that the School of Health Professions at CCBC offers 15 degree programs, four certificate programs and 20 Workforce Training Certificate programs. These include Nursing, Respiratory Therapy, Medical Imaging, Radiation Therapy, Emergency Medical Technology, Physician Assistant, Massage Therapy and Medical Laboratory Testing.