County COVID-19 panel discussion stresses the need to continuously fund nonprofit sector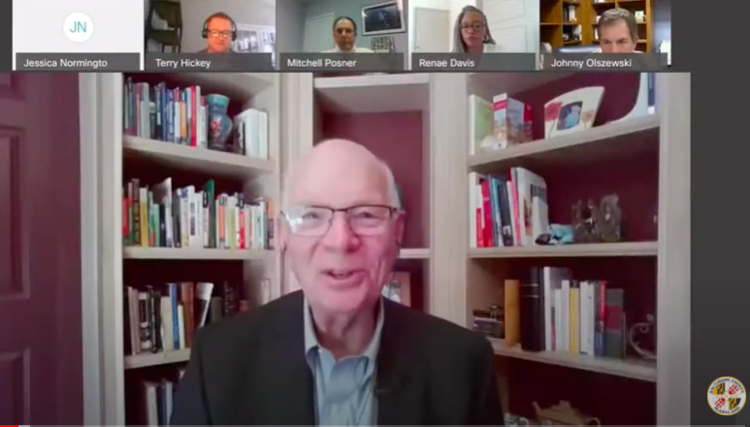 The nonprofit sector is playing a vital role in making sure people throughout Baltimore County receive the support they need to overcome challenges brought on by the Coronavirus pandemic.
To highlight what nonprofits are doing in Baltimore County and provide ways people can connect with those organizations, the county held it's sixth COVID-19 panel session: The Evolving Role of Non-Profits and the Federal Government in the COVID-19 Response.
County Executive Jonny Olszewski started the discussion by explaining ways the county has collaborated with nonprofits to make sure residents receive basic needs like food and housing.
"Since the start of the pandemic our administration has made it a priority to grow and expand with the non-profit community. With the help of the Maryland Food Bank, other non-profits, and the relationship with our school system, we have been able to deliver almost 5 million meals to residents. We are doing meal distributions 6 days a week in every corner of the county and it wouldn't be possible without the non-profit community, the National Guard and Baltimore County Public Schools," Olszewski said.
Before any of the nonprofit leaders spoke about how their organizations have provided assistance to residents in Baltimore County, Senator Cardin and Dr. Daraius Irani, Vice President of Strategic Partnerships and Applied Research at Towson University, spoke about the overall economic health of the country and state and the measures that have been made to help businesses and residents navigate through any economic hardships they may face.
Senator Ben Cardin primarily spoke about the importance of the CARES Act and how more money needs to be allocated to state and local governments.
"When we passed the CARES Act, we thought the pandemic would be behind us by the summer and we didn't anticipate it to be a continuing problem into the fall. That's why in mid May, when that became apparent, the House of Representatives passed the Hero's Act to provide the next round of help for state and local governments," Cardin said.
"We recognized that for all of our stakeholders, including our non-profit community, that you need to have partners, and government is a critical partner. But, government revenues have been decimated."
Cardin went on to say that the $15 billion of federal aid that will be allocated to state and local governments over the next two fiscal years is not enough to help communities and residents get through the predicted nation wide economic depression.
"We need to do more—we need to help families get unemployment insurance otherwise, where do families get the money to get their basic needs? We have the non-profit community and God bless you but you're being stretched thin because your resources are being tapped and, quite frankly, your demand is much greater. We need to take the Hero's Act up to the Senate and pass it-it should have been enacted in May but the Senate is now in recess until September."
Dr. Irani, also spoke about the economic challenges the country and Baltimore County have faced and will face and provided some stats pertaining to the U.S.and Maryland's economy.
According to Irani, the U.S. GDP declined by 32% last quarter, there were 5 million job openings and 20 million individuals unemployed. The first quarter GDP for Maryland was down about 5.1%, 7.6% of the state's population was unemployed and 54,000 new jobs were created or re-opened. But Irani said Maryland also has 200,000 continuous unemployment claims compared to the 50,000 claims made pre-covid.
Irani went on to say he believed the decision to shut down businesses in order to control the virus was the right thing to do but that the federal government should have provided stronger, consistent policies to make sure shutting down businesses was an effective move to make.
"We need to be supporting unemployed individuals, we need to be supporting businesses, households, state and local governments. By not funding the extra $600 a week, we are taking $50 billion dollars out of the economy every month for households that would put that money right back into the economy by buying groceries and paying rent," Irani said.
Over the next 3 years, Irani said he is predicting about 200,000 jobs will be lost in Maryland but that the state will "claw" some of them back. He also predicts the state will lose about $25 billion in GDP.
The discussion then transitioned to allow time for the nonprofit leaders to share what their organizations have been and hope to continue to do to help people who have been economically impacted by the pandemic.
Mitch Posner, Executive Director, Community Assistance Network, Inc. ( CAN), informed the panel that CAN operates two of the largest shelters in Baltimore County and has its own food pantries, offers transitional and permanent support for housing, and other critical services.
According to Posner, CAN's 5 outreach centers across the county have helped 78 people move from CAN's shelters into permanent and independent housing. This achievement could not have been met, Posner said, if it weren't for the financial aid that came from federal grants.
"CAN received a PPP loan which helped keep our staff fully employed and the unemployment insurance benefits have helped our clients pay some of their bills," Posner said.
Posner then read an email from a woman who lives in Parkville who reached out to CAN when she lost her job due to the pandemic.
"I need help with my rent and food as I am buried under debts and insufficient funds to help sustain myself.," the women wrote to CAN. "I won't be able to make rent next month and I still haven't paid this month's rent fully. I had to drop my fall semester classes because I can't pay my tuition. Is there an application I can submit, please?"
Posner then said CAN was able to help the women and they are now in the process of helping her pay her September rent. She is one of 125 households that CAN is helping avoid evictions since March 9.
Posner added that from March 9 to August 21, CAN's food pantry has seen 3,300 people and provided over 207,000 meals- all made possible, Posner said from the partnership with Baltimore County, the State of Maryland and the Federal Government.
Posner said he hopes CAN can continue to receive funds from its government partners-especially during the winter months when people become behind on paying their rent, when heating bills increase and when people find themselves unable to spend money on holiday celebrations and traditions.
Renae Davis, Supervising Attorney for Maryland Legal Aid Bureau ( MLA) followed Posner and spoke about how Maryland Legal aid is offering free civil legal services, such as child custody, housing, public benefits, consumer law and criminal record expungements to low-income people statewide.
Davis said financial support for MLA's services comes from federal, state and local governments, foundations, law firms, the United Way, and from individual donors.
Davis also explained that many of MLA's local offices represent children in CINA (Child in Need of Assistance) proceedings. Other vulnerable populations, such as victims of abuse and domestic violence, seniors, migrant farmworkers, veterans, and nursing home and assisted living residents, also receive specialized representation. MLA's services include representation before federal and state trial and appellate courts, brief advice and counsel, and referrals to other sources of assistance.
Since the start of the coronavirus pandemic, Davis said MLA has seen an increase in people seeking assistance with evictions, landlord tenant issues, unemployment benefits, and health care issues.
"Even though eviction prevention funding is available, it's a limited amount. So, we are kind of the office of last resort," Davis said.
" When Mr. Posner can't help his clients with their rent they come to us. Since the eviction prevention funding ran out on July 25, we are expecting to see a trickling effect of evictions increasing over time. So our goal is to partner with as many nonprofits in Baltimore County so that they are aware that we are here."
Davis said tenants are now beginning to be "harassed" by landlords and landlords are now contacting MLA regarding bankruptcies because they are facing foreclosures.
"Also, we are seeing that there are delays in receiving unemployment benefits so we are trying to expedite that for our clients," Davis said.
As the discussion started to come to a close, Terry Hickey, Baltimore County's Deputy Director of Housing and Community Development- who was the moderator for the discussion, asked the panel if there were any potential positives that could come from the turmoil brought on by the Coronavirus.
Senator Cradin said one silver lining that can come from COVID-19 is the potential to bridge the socio-economic gaps that are present within the country's society.
"We already made available $2 trillion from the CARES act, we are negotiating a package that will probably be somewhere between $1 and $3 trillion in the next COVID-19 relief package. If we are smart in the way we use that, we can bridge the gap, for example; digital divide in education. If we can make broadband available in every household, that will really go a long way," Cardin said.
" If we can use COVID-19 to deal with the disparities we have in health care by creating capacity in underserved communities, that will make a difference. On the economic front we are looking at building up financial capacity within vulnerable communities so that when we use a PPP type program and you need to find a seven-day lender, they are already in your community."
Olszewski agreed with Senator Cardin's outlook and said the pandemic has only enhanced the socio-economic issues that were already present in the county.
"We should ramp up the fierceness of our urgency and also hopefully use these resources and this flexibility and the desire and need to innovate to make these systemic changes that are going to actually get us where we need to be for all our communities that have been underserved."
To watch the full panel discussion, visit www.baltimorecountymd.gov/Agencies/economicdev/covid19-assistance/webinarseries on the county government's website.