Planning a wedding? Find some inspiration from these historic Baltimore County wedding photos!
Take a break from your Pintrist bridal pages and look to the past to plan for your wedding day!
Big, extravagant weddings that cost thousands of dollars have become the norm in the 21st century. However, many bridal couples have found themselves cutting down their guest list and planning simpler weddings this year due to the Coronavirus—which has reverted many weddings back to a more simpler time when brides wore their best Sunday clothes instead of a big white gown and family members prepared the food themselves instead of hiring a catering company.
Weddings back in the day, no matter how simple they may seem to us now, were still filled with joy by both the bridal couple and family members and can act as a great example for couples who are seeking ways to plan for a smaller, more simple wedding. So, take a look at these historic Baltimore County wedding photos, courtesy of the Historic Society of Baltimore County (HSBC) to see if these weddings from the past help you plan for your wedding in the future!
Having a smaller wedding party doesn't mean you need to compromise fashion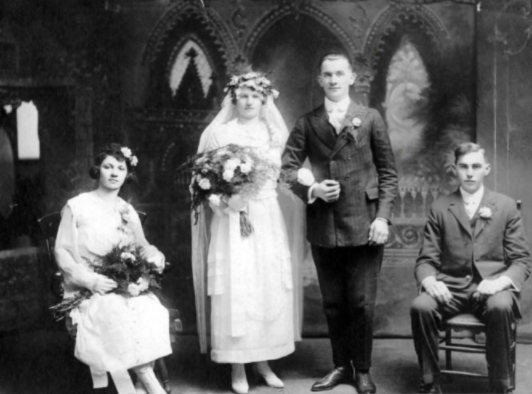 The Coronavirus pandemic may cause bridal couples to opt for a smaller guest list, which may also mean having a smaller bridal party. Instead of having a dozen bridal party members, Elizabeth Zimmerer and Michael Kahl, seen in the picture provided, only had a maid of honor and a best man.
Although their party was small, they were decked out in their finest clothes, had elaborate bouquets and boutonnieres and were provided an elegant setup and background for their portrait.
Being frugal while still having a gorgeous gown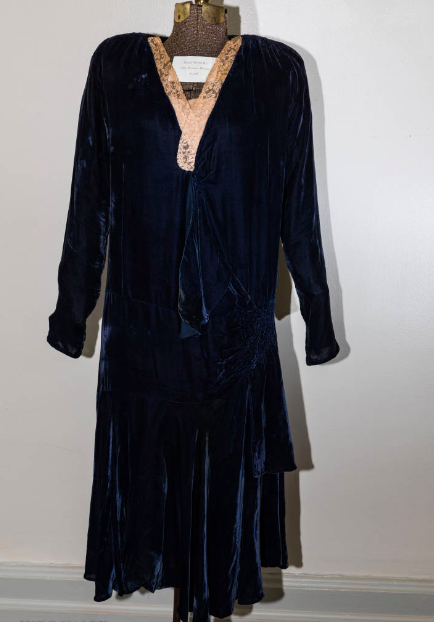 COVID-19 has also impacted families financially this year, causing some brides to reconsider how much they are willing to spend on their wedding gown. This navy blue wedding gown, which can be viewed at The Historical Society of Baltimore County, may not be the conventional, white wedding dress, but it is elegant, for its time, nonetheless. Finding a bargain gown and doing your own alterations, or finding a family friend who can alter your dress for a discounted price, is a great way to save some dough while still looking your best while you walk down the aisle.
Self-designed and handwritten invitations add a unique, personal touch
Another way to cut down your wedding expenses is by self-designing and/or handwriting your own invitations and thank you cards. There are several free or low-cost designing platforms, like Canva, Shutterfly, or even Microsoft Word, that allow you to pick and choose how you want your invites to look without having to pay a designer.
Your DIY invites don't need to cost you an arm and a leg to look beautiful—just take a look at how simplistic Mary Virginia and Mattew Sloan's invitation was back in 1890! ( See picture at www.Avenuenews.com)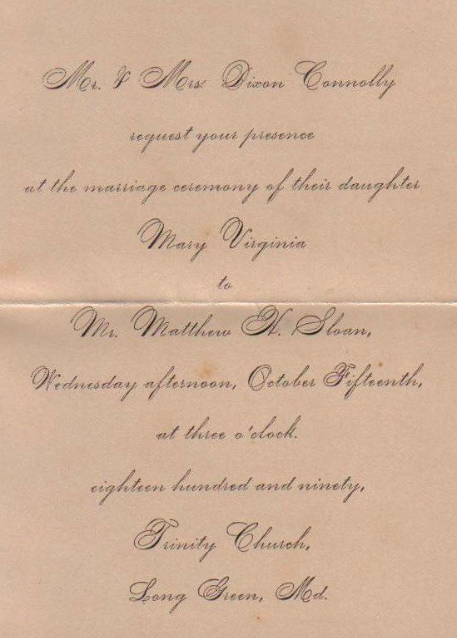 Their invitation reads:
"Mr & Mrs. Dixon Connolly/request your presence/at the marriage ceremony of their daughter/Mary Virginia/to/Mr. Matthew H. Sloan,/Wednesday afternoon, October Fifteenth,/at three o'clock,/eighteen hundred and ninety,/Trinity Church,/Long Green, Md."
You can go even a step further and handwrite your invitations by brushing up on your cursive and finding a nice-quality pen that can allow you to showcase your calligraphy skills!
Honeymooning close to home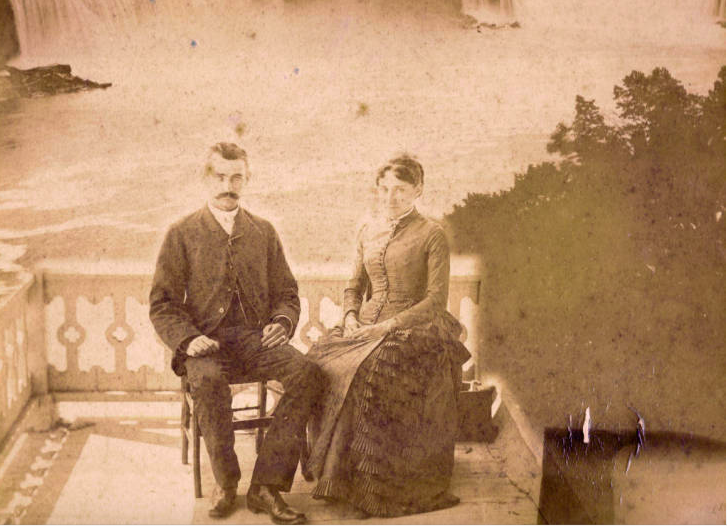 Just because COVID-19 has restricted where and how people travel doesn't mean you can't have a honeymoon! Take the Neepier couple for example—they didn't travel too far for their honeymoon in 1885 when they went to Niagra Falls.( See picture at www.Avenuenews.com) Although U.S. citizens may not be able to cross into Canada, you can still have a great honeymoon traveling to a destination within the U.S. or even in Maryland. Ocean City is still open for business, with certain COVID-19 restrictions and guidelines, and can be a great way to have a beach honeymoon without having to go to an airport and hop on a plane.
Wax floral arrangements last a lifetime and can save you money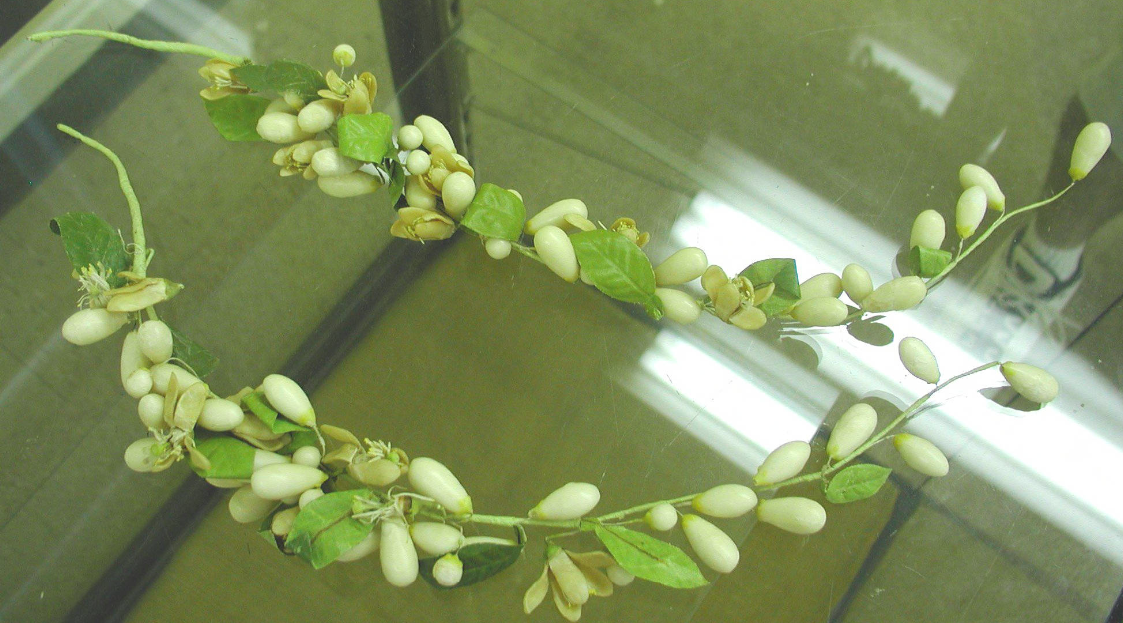 Pair of wax, paper and wire flower sprigs. Worn by Emma Hyde Baldwin at her marriage to James Henry Quinby on October 21, 1891.
Another way to cut the cost of your overall wedding expenses is by using fake flowers and floral arrangements instead of real flowers—like Emma Hyde who used a pair of fake flowers sprigs made out of wax, paper and wire as a wedding wreath that she wore atop her head for her wedding day in 1891.( See picture at www.Avenuenews.com)
Follow CDC Guidelines and Cut Costs with Micro Weddings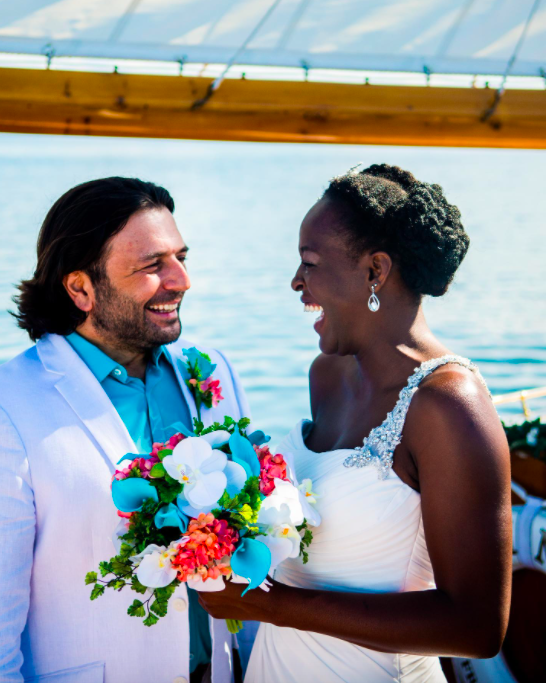 Micro weddings, where only a few guests attend the ceremony and reception, have been a great way for couples to still have elements of a traditional wedding while following the Center for Diese Control (CDC) COVID-19 guidelines. Micro weddings can also be a more intimate experience that can allow you and your partner to really savor the day and not get too overwhelmed with the responsibilities of hosting a large party.
Although there is no documentation of 19th or 20th-century micro weddings at the Historical Society of Baltimore County, Chesapeake Bay Wedding Magazine's latest edition featured a couple who had a micro wedding in classic Maryland fashion—on a boat! ( See picture at www.Avenuenews.com) only was their wedding a unique experience that followed CDC COVID-19 guidelines, but it also gave them the opportunity to feature Maryland's most cherished, natural treasure.
No matter how many elements of DIY are incorporated into your wedding, or how many people attend your ceremony and reception, may you and your partner have a life full of happiness, joy and love!
Has COVID-19 caused you to alter your wedding plans? Let us know of any advice you have for bridal couples!