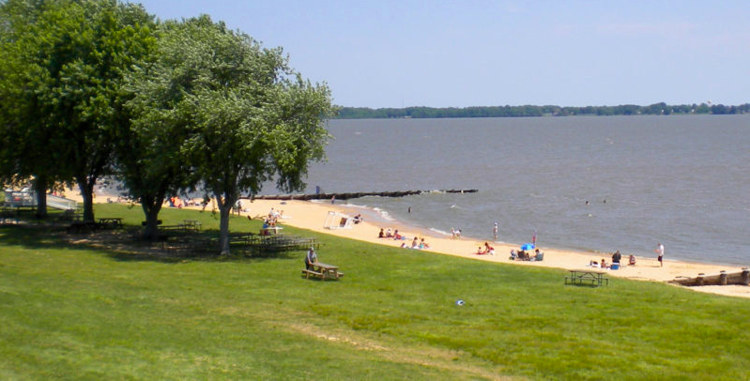 BALTIMORE COUNTY — Gunpowder Falls State Park has seen a drastic increase in visitors this year which is now magnifying several issues that many residents are saying have been around for a while at the park.
According to Dan Hughes, who is the park manager at Gunpowder Falls, the park has seen around 1.2 million visitors already this year. This is a large increase from last year which saw a total of 1.4 million visitors.
Gunpowder Falls is not the only park seeing more visitors. Hughes said a total of around 8.6 million people have visited parks throughout the state so far this year and that an estimated 17 million will visit the parks by the year's end—a record high number.
Hughes said the increase in visitors is due in large part to indoor activities and events being closed or canceled due to COVID-19.
"We have seen an increase in numbers for the last 20 years but this year has been on absolute turbocharge. When the state was locked down we saw a lot of first-time visitors. More Marylanders are discovering their state parks than ever before," Hughs said.
"Any parks that have any water access, especially in central Maryland where there is a large population density, is seeing unprecedented use."
Hughs noted that in general, when the economy takes a nosedive, which it has since the beginning of the COVID-19 pandemic, parks start to see more visitors. This is because it costs nothing to hike trails and swim in the waterways that are within parks.
Increase in visitors means an increase in trash
Now that more people are visiting the park, Hughes said more trash has been found on trails, around landmarks and in waterways within the park. Hughes said in just the Notchcliff area of the park alone, over two tons of trash were collected in just a three week period.
Parking lots have also begun to fill up and many people are parking their cars on Belair road which, according to people who live on or near the road, is causing traffic problems.
The increase in cars parked along Belair road can be attributed to not only the increase in visitors but to the fact that the Big Gunpowder Falls parking lot along northbound US 1 ( Belair Road) is closed due to a rehabilitation project of the Belair Road bridge. This project is expected to be completed this fall.
Councilman David Marks and Delegate Kathy Szeliga have been notified about these issues, which is why they took a tour of the park with the Maryland Department of Natural Resources ( MDNR) to see the issues that have been going on and to discuss ways to address them.
"We toured the eastern side of the park from the Belair Road bridge to Pot Rocks, which is about a mile downriver. The Department of Natural Resources is dealing with an unprecedented increase in park patrons. This not only impacts parking but also creates more trash," Marks said.
Szelgia said she hopes MDNR can come up with a campaign to remind people to not litter since the parks no longer provide trash cans along the paths.
"I think we may need to go back to putting trash cans in our parks so that people will pick up after themselves. This particular state park is intended for hiking with your family, friends and pets but it was never intended for a day experience with a grill and coolers," Szelgia said.
"If people want to do that they should go to the Hammerman part of the park because they have bathrooms and picnic benches."
Hughes also said he encourages people to go to the Hammerman area if they want to picnic and swim because it will take some pressure off of other parts of the park.
Hughes added that the parks department is using all its resources to address the trash issue, which means less time and money is being spent on other aspects of the park.
"We have dispatched employees and we are spending hundreds of man-hours a week picking up trash every single day. It has come at the expense of normal things we would be doing like cutting the grass, maintaining the trails, and improving the trails. We have about a dozen or more people every single day going and picking up trash at every one of those locations," Hughes said.
The locations that Hughes said have the most trash are the areas around Jones Road, Belair Road, Harford Road and Notchcliff Road—all places where there is access to waterways that are part of the park.
In terms of the parking issue, Marks said the state should consider expanding the parking lot off of Belair road if environmental regulations allow for it. However, Mark said there is a more practical solution to the traffic/parking problem.
" [ We need] to encourage people to use the park at earlier and later times to better manage its use. Some people have suggested requiring an online registration like what is being done at Kilgore Falls in Harford County, but that would require a ranger to monitor use," Marks said.
Difficulties in responding to emergencies
A more pressing issue Marks and Szeliga discussed was the ability for first responders to access the park when there are emergencies.
"A park patron suffered a cardiac arrest earlier in July, and there was difficulty accessing him on the river," Marks said.
According to MDNR, since the beginning of the year, Natural Resources Police reported nine incidents requiring medical assistance (not necessarily involving local first responders) at the entirety of Gunpowder Falls State Park.
There unfortunately have been two fatalities at the park this summer. Both remain under investigation.
The night of July 3, officers responded to a reported drowning in a remote stretch of the Gunpowder River in the Perry Hall area. Witnesses found the victim unresponsive and began to perform CPR until EMS arrived; they were unable to revive the individual, who was reportedly at the park alone.
The evening of July 8, officers responded to the Hammerman Beach Area of the park, in Chase, when a woman reported to lifeguards that her five-year-old son was missing in an unguarded area of the beach.
The lifeguards and members of the public searched the area and the child was found submerged in water. Lifeguards administered CPR before emergency personnel arrived. The child was pronounced dead at a local hospital.
Councilman Marks said the Kingsville Volunteer Fire Company's swift water rescue team has suggested that the Baltimore County Police Department purchase a hoist to allow equipment to be easily transported to remote locations. Another possibility is building an access point from the Richlyn Drive pumping station.
"We are hoping to get some kind of access near Belair Road so we can get a boat in the river. The problem is, is that our environmental laws are so strict that getting a permit to put in emergency access only ramp is virtually impossible," Szelgia said.
"Councilman Marks and I are working to find a solution to that because we don't need to have more people perish because fire and rescue couldn't get to them."
Park Maintenance Backlog
Kim Coble, Executive Director of the Maryland League of Conservation Voters, said a possible reason behind why the MDNR and Gunpowder Falls State Park is having some of the issues Marks and Szelgia noticed during their tour is because the National Park Service has a large maintenance backlog.
"Even before the economic slowdown caused by coronavirus, these resources were facing unprecedented pressures and threats." Coble points out that in Maryland alone, national parks currently have a $244,457,125 backlog.
The Maryland League of Conservation Voters is just one of 36 conservation groups who are advocating for state and national parks by pushing for the U.S. House of Representatives to pass the Great American Outdoors Act.
"The Great American Outdoors Act addresses the incredibly important problem of the National Park Service maintenance backlog," Coble said.
"Over the past few months, we've been reminded just how essential our parks and open space are to our physical and mental health."