MIDDLE RIVER — Middle River Volunteer Fire & Rescue (MRVFR) recently received a $15,632 grant to purchase 16 handheld thermal imaging cameras and other emergency response gear, part of an ongoing grant campaign to update the station's equipment and capabilities.
MRVFR, which runs about 1100 responses per year in Baltimore County, previously had just four thermal imaging cameras, including two handhelds that were getting outdated.
"A lot of things that we buy become outdated quick — they stop making parts so they can sell new models," said MRVFR President Bill Connelly. "We want to give our volunteers — who are just doing this for free — the best support that they can have."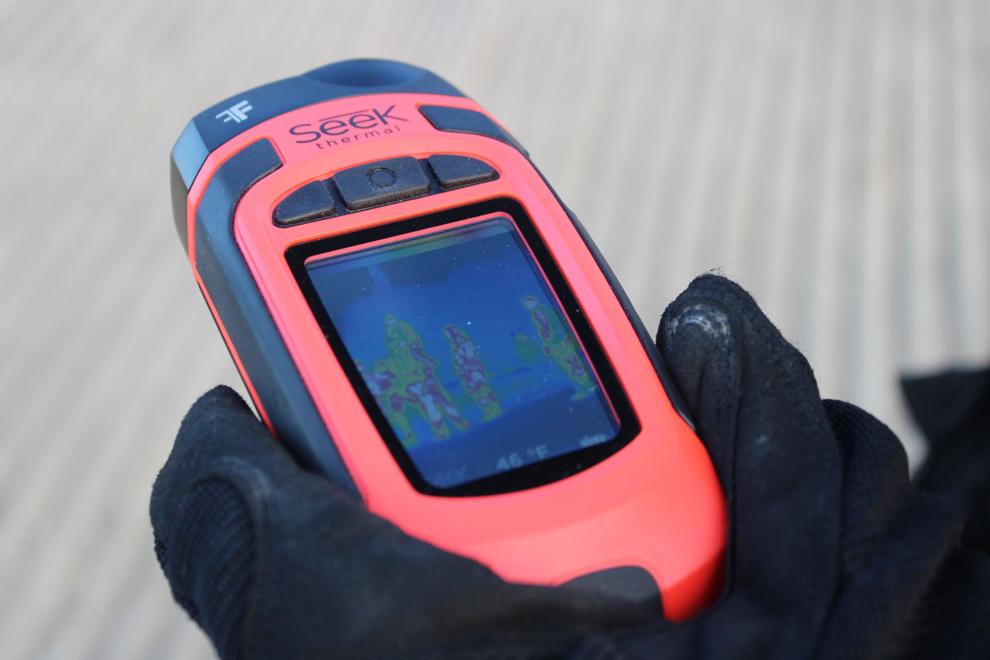 The new cameras are more intuitive for easier use amid high-pressure search and rescue operations, and they now have enough for every riding position on their response rig. While the station will still use two larger cameras with more nuanced imaging displays, the smaller handhelds are critical for helping firefighters on scene identify the seat of a fire.
Fire Captain Fred Causey estimates that the cameras will last the department at least six to eight years, and said they would be critical in keeping responders safe.
"Every member that hops off a Middle River Fire & Rescue rig will have one of these," Causey said. "We use them mostly for situational awareness — we'll be able to see if something is too hot, for example."
Grants are part of the station's lifeblood, Connelly said. They regularly apply for funding from a number of private grant programs, and often don't get anywhere.
"We struck out on most of them," Connelly said. "But it's one of those things where you only need to be successful once."
For the Leary Firefighters Foundation, a national charity supporting equipment upgrades and education for local fire stations, the cameras were worth the investment. MRVFR applied for the Leary Foundation grant in July and learned their request had been approved late last year.
From there, it was a matter of ordering the Seek Thermal cameras, which cost about $500 each, alongside about $70 each for holsters and supplemental gear. The cameras are small, easily fitting in one hand, and attach to a retracting strap that allows firefighters on scene to simply let go if they need both hands free.
They completed some training in how to use the different imaging modes and put the cameras to work right away — at a fatal fire on Yew Road in January, the more sensitive thermal display technology helped Causey find and recover the victim amid the near-inhospitable environment.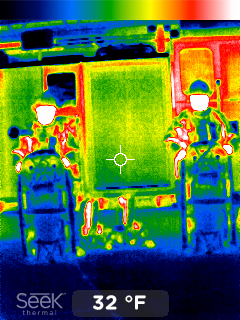 "The camera helped me see the room, the bed and the unfortunately deceased victim," Causey said. "I could see him clear as day."
Connelly explained that as one of only two volunteer companies in the county with both a truck engine and a squad — an additional vehicle with extra equipment and response resources — MRVFR responders are more frequently summoned to fire emergencies around the county. As such, he puts a high priority on having the best available equipment and training.
"We have to look carefully in a fire — everything's heated, and sometimes you really can't tell between the colors" Connelly said. "These things work out great."
Connelly said that the team at MRVFR was grateful to the Leary Foundation for the financial support, and added that it was a needed boost after a challenging year.
"It's been a moral boost," he said. "It's awesome for our members, because they get to have newer equipment and better technology that makes their jobs easier and safer."
MRVFR put the rest of the Leary Foundation grant funding toward two Fast Boards, pieces of response equipment used for downed firefighter or victim removal, at just over $3,300 apiece. The boards, purchased from FAST Rescue Solutions, are light, have easy-to-use straps and bright lights to assist with speedy rescues from sites where responders are in imminent danger.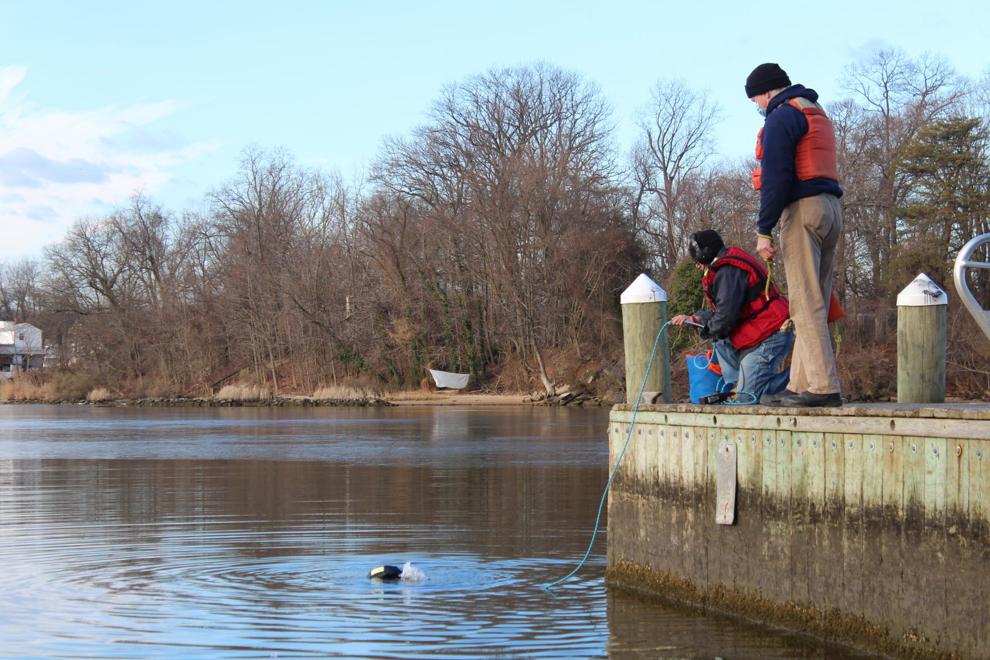 The Fast Boards can also be used for water and ice rescues. Water Rescue/Dive Captain Jack Amrhein described them as an all-around multi-tool.
He explained that the boards have a buoyancy aid, which he compared to a pool noodle, which can help keep victims afloat, as well as straps which can be locked from a distance to help secure those who may be too cold to properly grip a rope.
"Think about how you ride a boogie board," Amrhein said. "A victim can lay on that board and we can tow them from the water."
At a cold water dive training Saturday morning at Wilson Point Park, the crew tested out the boards in water.
Josh Wolf, an Emergency Medical Technician firefighter who has been with the station for over two years, also took the opportunity to complete dive training, zipping up into a weighted suit and making his way to the depths of Dark Head Creek to practice a 'pendulum' deep water search pattern.
Speaking through a microphone to his crew members on the dock, Wolf reported that it was 'pretty chilly' down there.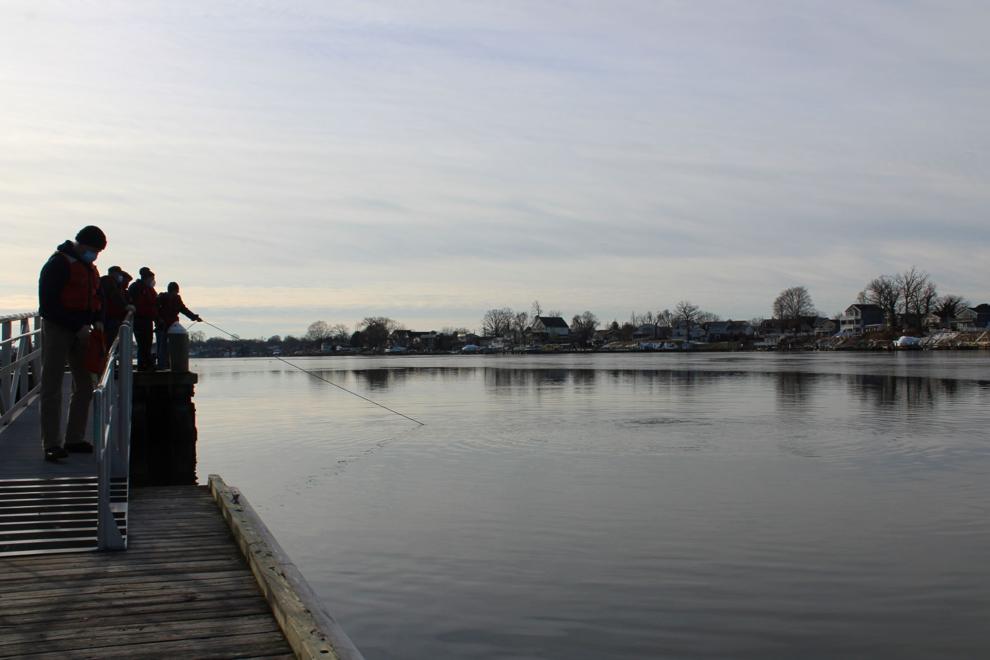 "You can't see much, and it's cold," he said after resurfacing, before explaining that he has long aspired to join the dive team. "I've always wanted to do it, and had some down time during the pandemic, so figured I'd go for it."
While Amrhein said the Leary Foundation grant was a critical step in upgrading the station's equipment and capabilities, he has his sights set on another prize — a matching grant from Maryland's Waterway Improvement Fund (WIF).
Currently, the station uses two Rigid Inflatable Boats which they acquired used back in the late 1990s. And suffice to say, the boats have a tough job, sustaining hull rust, slow leakage and wear-and-tear on the motors. They are also quite small, only carrying two to three people per vessel, limiting the capacity of the station's marine responses.
Amrhein is hoping to raise $30,000 — which will be matched for a $60,000 total — for two new vessels which will have space for basic medical equipment, be fully equipped with floodlighting for night searches and can carry at least six to eight passengers.
This will help expand their capabilities for search and rescue, Amrhein said, but other emergency responses. He looked back on the massive flooding along much of Baltimore County's waterfront amid Hurricane Isabel in 2003, saying the new vessels would help them be better prepared for something like this.
"Pretty much everything in Eastern Baltimore County flooded, and we did a lot of evacuation," he recalled. "The newer boats, without equipment, can hold more people. We can put them on the boats and get them out of their flooded neighborhoods."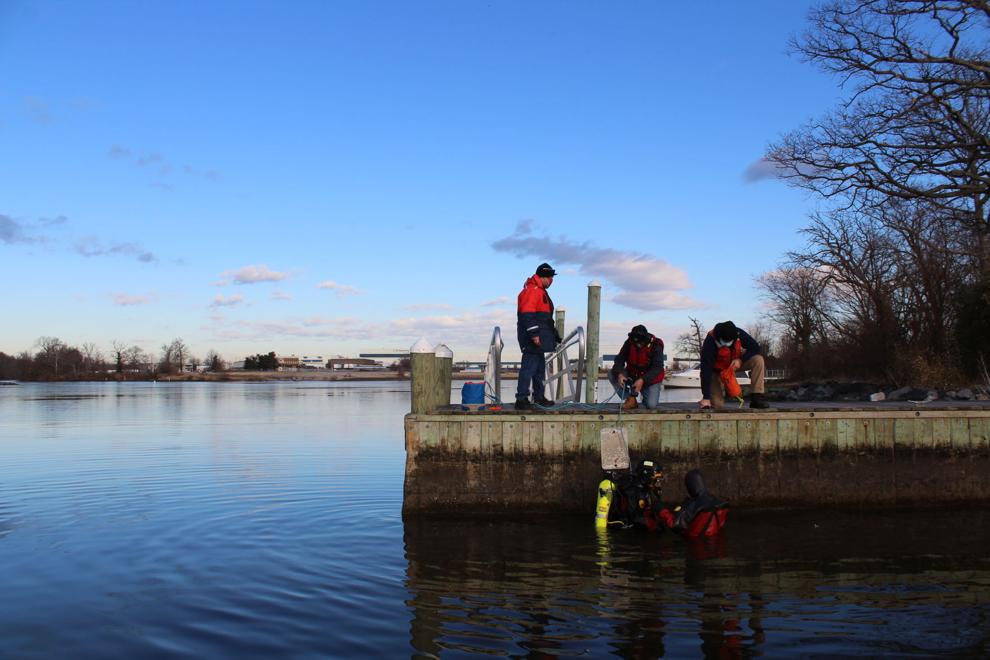 They applied for the grant before the pandemic, launching a fundraiser in partnership with a number of businesses like dock bars and marines shops, as well as other organizations or regular people who wanted to chip in. Progress stalled when the pandemic hit as they neared the halfway mark, and they secured a one-year extension.
Now, the fundraising clock is ticking down to June 30, when the grant will expire. Amrhein is working to reignite fundraising, and encourages people to contribute, either to their GoFundMe or through donations to the station, which must be marked specifically for the WIF grant.
"This will give us the ability to update and replace outdated equipment from the 90s, and in doing so it will enhance the safety of our team and our citizens," he said. "It increases safety for everybody."