ROSEDALE — A little over a year ago, he was abandoned in the street. Now, he puts his nose to work finding lost pets. Yes, Duck is a very good boy.
"He's the most resilient creature I've ever met," said John Roth, Duck's owner, trainer and all-around dog dad. "He likes being around people, he likes being around dogs. I can only imagine what it must have done to his psyche to be out on his own alone."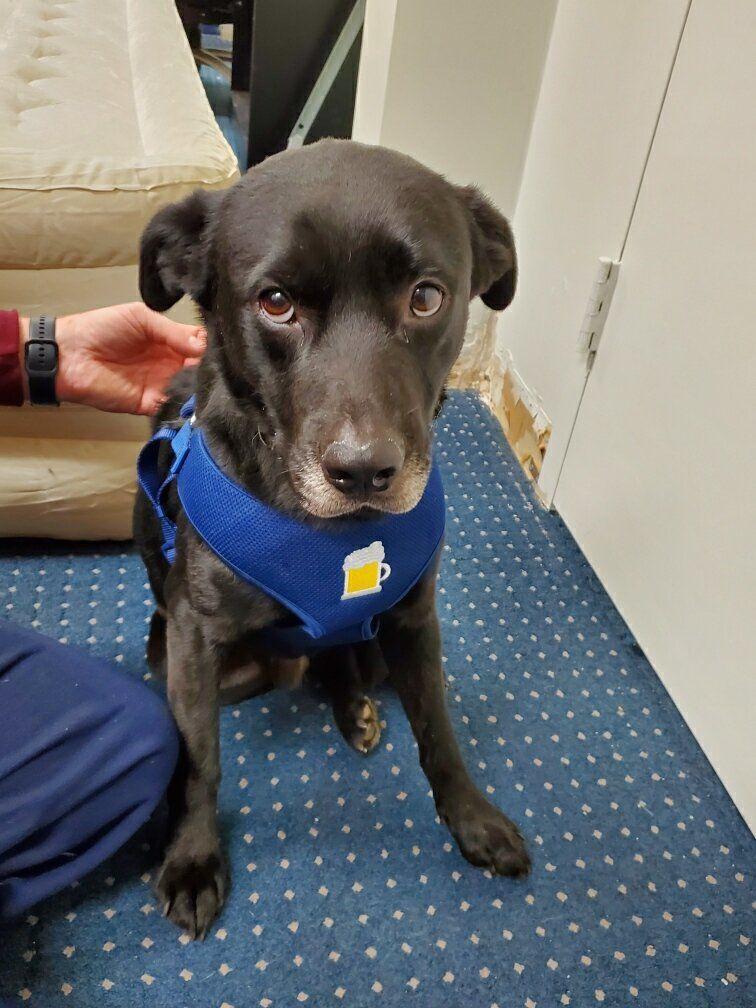 Sussex Community Association President Leah Biddinger estimates that Duck was left to fend for himself for at least a few weeks in the middle of winter. Local residents reported several sightings throughout Jan. 2020, but he always seemed to evade capture.
Then, on Jan. 27, Biddinger got a tip — one resident had him caught in their yard.
"I immediately rushed down there to grab him," Biddinger said. "He was very scared and very skinny. You could tell that he needed some loving."
Their first stop? McDonalds. He looked like he needed some chicken nuggets.
Next, she took Duck to a pet hospital for a check-up and then to Baltimore County Animal Services in hopes of tracking down his former owner.
But Biddinger, a staunch animal advocate who happily, only half-jokingly admits she prefers animals over people, couldn't stand to just surrender him to the system. She left her name to claim him after the shelter's stray hold, and began seeking a family who could foster him.
"I knew he needed somewhere that would be safe," Biddinger said.
While it broke Biddinger's heart to leave Duck at the shelter, she was about to receive some more heartbreaking news — they had tracked down his previous owner, who refused to take him back, saying he had a history of aggression and biting.
If no one offered to take on responsibility for Duck, those claims could have sealed the deal on a quick euthanasia.
But Biddinger wasn't about to let that happen.
"He has one of the gentlest, nicest, most even-keel personalities," she said. "When I went to pick him up, he was scared. I mean, he was petrified. I just reached right down, picked him up and put him in my car — not a growl, not a bark, not anything from him."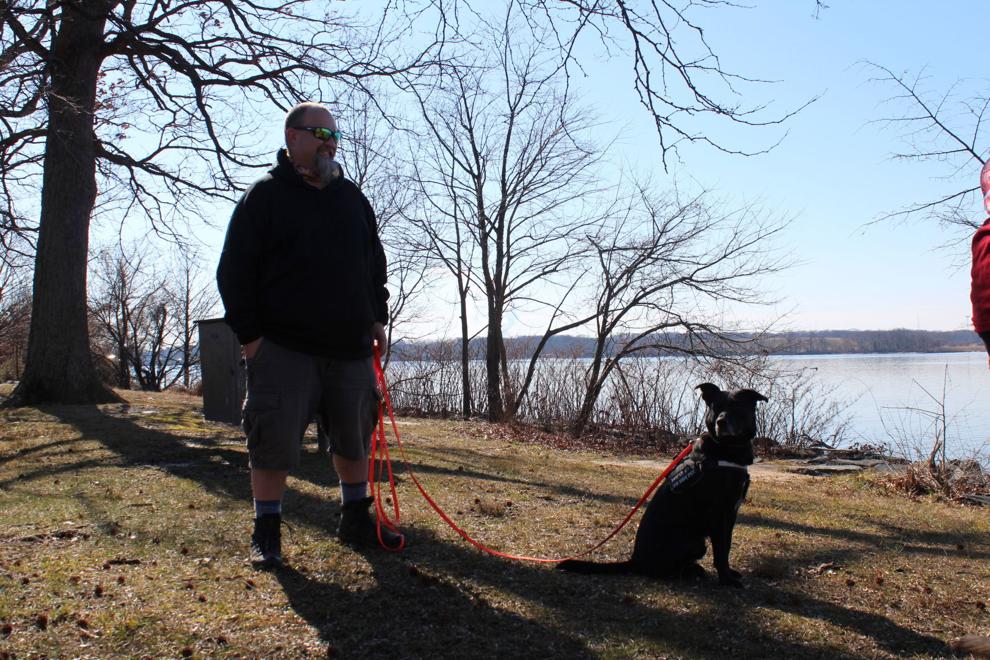 She had found a family willing to take him — Roth, his wife Jen and daughter Eve had lost their dog Holly about a year and a half earlier. They had a whole lot of love to give, and after Biddinger reached out, they agreed to foster Duck temporarily.
Biddinger picked him up from the shelter and delivered him to the Roths in Rosedale on Feb. 3. Even then, she hoped that 'temporary' would stretch into something more permanent.
"He was beaten down," Roth said. "You could tell he'd been on his own for a good long time."
Duck was overwhelmed at first, and it took about three days for him to open up. Never at any point did Roth flag any aggressive behavior, and he doesn't believe Duck would ever try to bite anyone.
"He mellowed out quickly," Roth said. "He's got a real soft temperament."
Eve took to him immediately. Jen, however, was a harder sell, insisting that they weren't ready for another dog.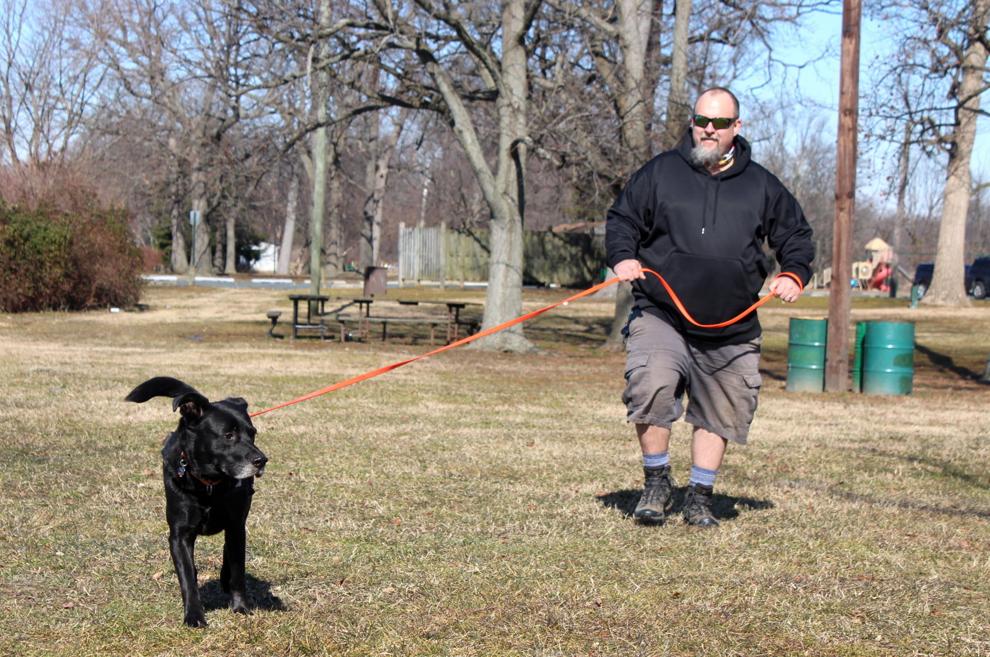 On John's birthday a few weeks later, Biddinger received a text from Jen. Her heart dropped, and she feared the worst — that they were sick of Duck and hoping to get him out from under their feet in a different, more permanent home.
"I read the rest of the text message and immediately just burst into tears," Biddinger said. "They had decided to keep him, and from then on he's gone from rags to riches."
Biddinger and Roth first met through the Lost Animal Resource Group, a Baltimore-based network of missing pet recovery volunteers from whom Roth sought help after Holly went missing. Roth was also connected with Carmen Brothers, who runs the site Professional Pet Trackers with two highly trained tracking dogs of her own, and had an interest in putting Duck to use helping recover other lost animals.
Roth hoped Duck might be suited for tracking work, but worried that lacked the proper training. Carmen assured him that any dog with the right temperament — and nose — could be up for the job.
So Roth signed him up for an online class with the Missing Animal Response Network, where he would guide Duck through training exercises to sharpen his senses (and his ability to follow instructions).
"All dogs want to use their nose — it's a natural thing," Roth said. "It was just refining it, getting things on cue, letting him know when it was time to work and getting him to focus on following a single scent for long periods."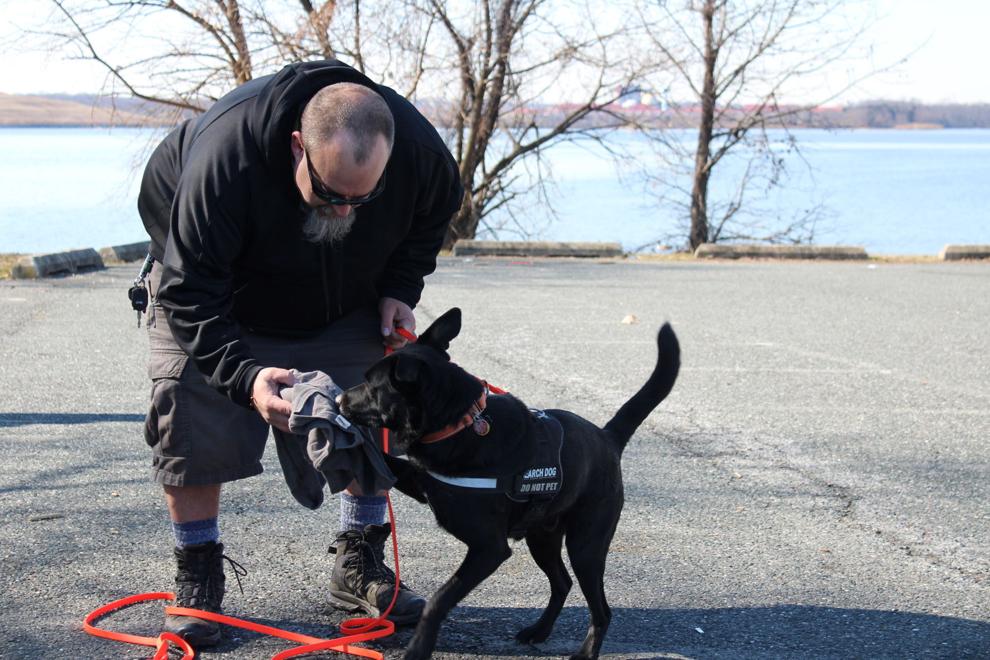 Biddinger helped, along with her own rescue Schatzi. They would get Schatzi's scent all over a 'scent item' and give it to Duck before high-tailing it down the block, hiding in ever more challenging spots. Duck would lock in on the scent and follow the trail until he found them.
And he had a real knack for it.
Roth knew he would benefit from more intensive training, so he signed Duck up for a nearly two-month course from pro trainer Kimberly Thompson of Lone Star K9 Pet Trackers in Dallas, Tx. He already had the basics down, but Roth wanted to get him comfortable in different environments and with different distractions.
"There's not much that throws him off anymore," Roth said. "He's got to be prepared to deal with anything, from seeing a cow to seeing a tractor trailer."
Yes, they missed him during his weeks away, but they put their loving home to good use — Biddinger found another rescue for them to temporarily foster.
Duck returned before Thanksgiving ready to hit the ground running.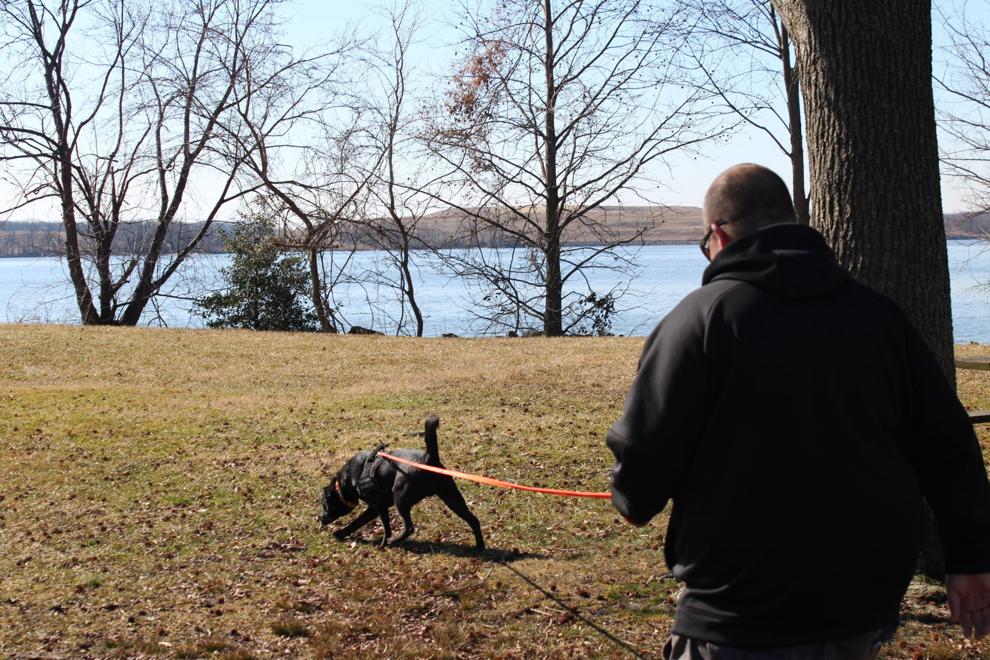 On a call down in Takoma Park, they were called in to help find a cat who had been missing for a few days. Duck tracked the scent from a tree where the cat had last been seen to a neighbor's house, and eventually they discovered the cat camped out in the basement rafters.
Recently, they headed out to Perry Hall, where a cat had been missing since mid-December. Carmen had taken her two trackers out to find the cat a few weeks prior, but they eventually called off the search. Still, it was a good chance to see how Duck fared with an older scent.
"He locked onto the exact same trail as the two dogs three weeks prior," Roth said.
They eventually narrowed the search down to a nearby commercial greenhouse where they still suspect the cat may be trapped.
They're not part of any formal organization, Roth explained. He gets calls on social media, or from folks like Biddinger, and takes Duck out in a good-faith, volunteer effort to help people find their missing pets. He said they'd take on — or at least consider — any search and recovery mission in the eastern United States.
Roth doesn't know what the future has in store for Duck, but he knows the pup has something special.
"There's a lot of potential here, and it's just a matter of figuring out things to do with it," Roth said. "But for right now, missing pet recovery is exactly what I want to be doing."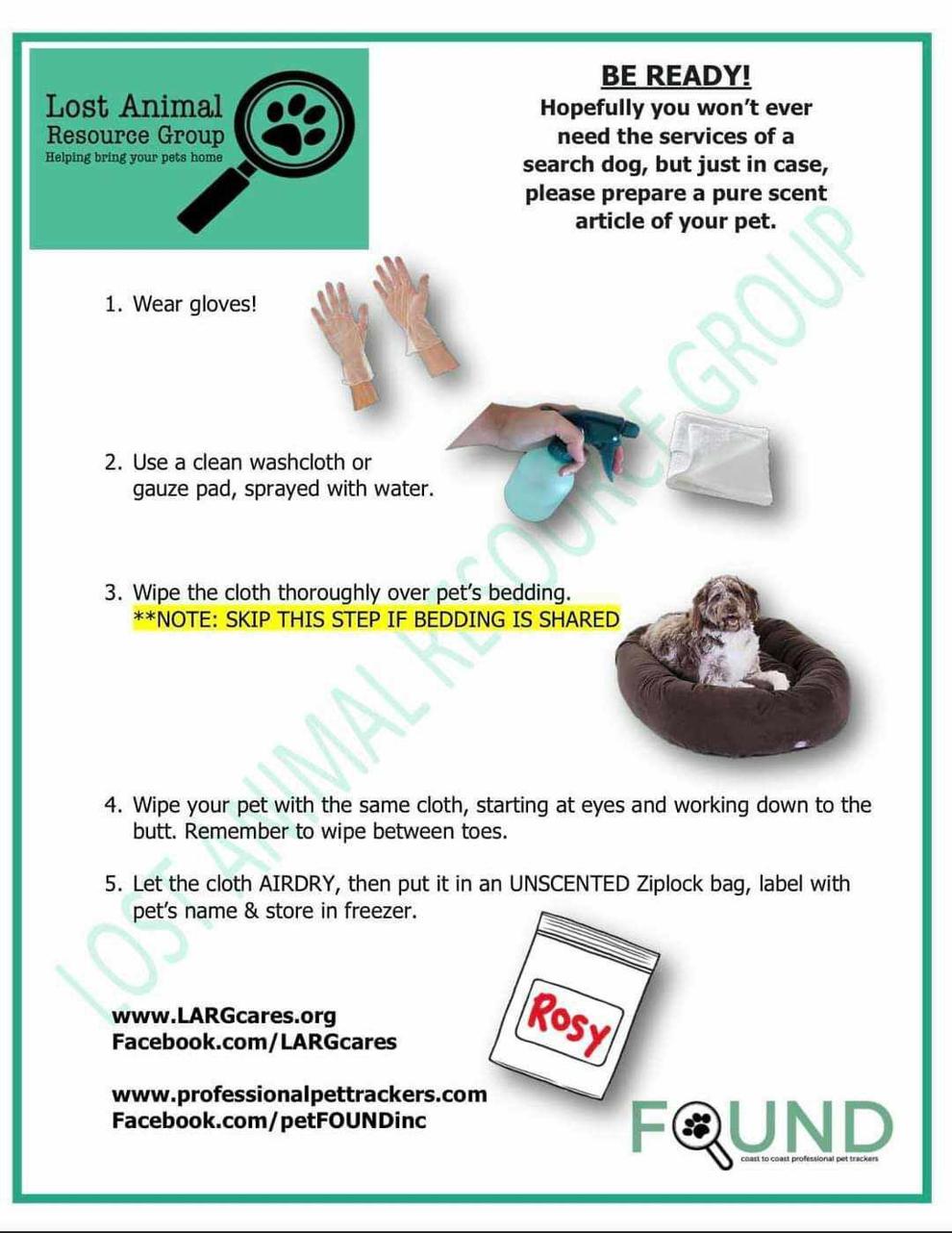 Biddinger encouraged folks with lost pets to reach out for help as soon as possible, and to have a scent item handy — ideally an old shirt or towel smothered with the one animal's scent (doubly important for multi-animal households). Who knows — maybe it'll be Duck on your doorstep to help find your missing pooch.
Looking back on how Duck's story started, Biddinger said that seeing him thrive is its own reward.
"To find a dog that was thrown out like trash, and to have him just come full circle and give back, potentially helping other dogs get back home — it's just the most amazing feeling in the world," Biddinger said.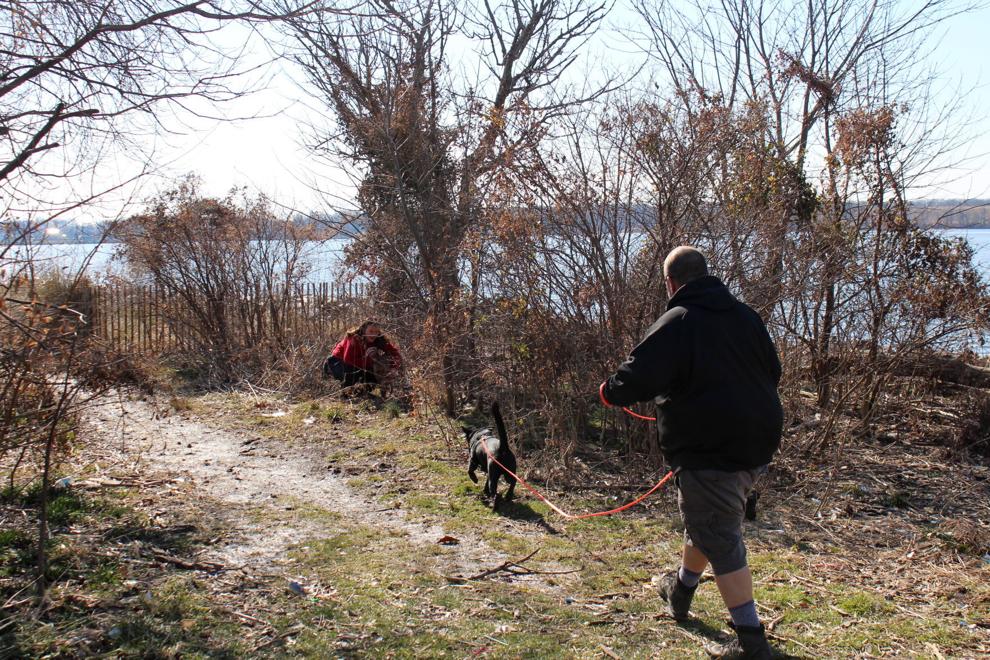 When Roth thinks back to the scared little pup cowering under his dining room table when Biddinger first dropped him off, it's hard to believe how far he's come.
"In the last year, seeing the turnaround in him has just been astonishing," Roth said. "I couldn't be more proud of this guy."